Peanut Butter Molten Cakes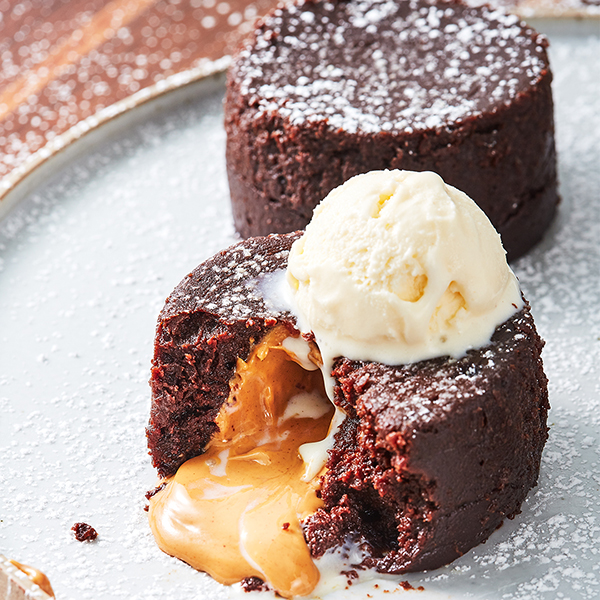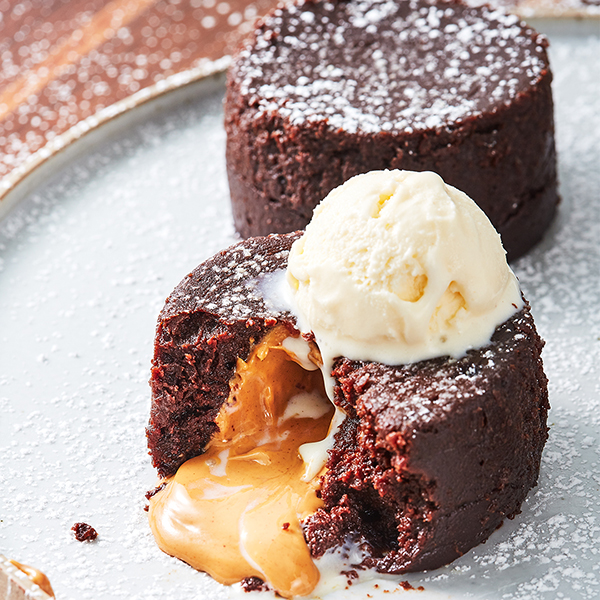 1/2

cup

Butter

(1 stick) cut into cubes, plus more for ramekins

1

cup

Chocolate Chips

1/2

cup

Powdered Sugar

plus more for topping

2

large

Eggs

plus 2 egg yolks

1

tsp

Pure Vanilla Extract

1/4

cup

Unsweetened Cocoa Powder

1/4

cup

All-Purpose Flour

1/2

tsp

Kosher Salt

4

tbsp

Peanut Butter

divided
1/2

cup

Butter

(1 stick) cut into cubes, plus more for ramekins

1

cup

Chocolate Chips

1/2

cup

Powdered Sugar

plus more for topping

2

large

Eggs

plus 2 egg yolks

1

tsp

Pure Vanilla Extract

1/4

cup

Unsweetened Cocoa Powder

1/4

cup

All-Purpose Flour

1/2

tsp

Kosher Salt

4

tbsp

Peanut Butter

divided
Grease four ramekins with butter. In a medium microwave-safe bowl, combine butter and chocolate chips and heat in 30-second intervals until melted.

Add powdered sugar, eggs, egg yolks, and vanilla and whisk until smooth. Add cocoa powder, flour, and salt and whisk until just combined.

Fill ramekins halfway with batter, then top each with 1 tablespoon (heaping) of peanut butter. Top with remaining batter. Cover ramekins tightly with foil.

Place trivet inside Instant Pot and pour in water. Place three ramekins on trivet and stack fourth one in the center on top.

Secure lid and Pressure Cook/Manual on High for 20 minutes. Follow manufacturer's guide for quick release, making sure to wait until cycle is complete before unlocking and removing lid.

Using tongs, carefully remove ramekins from Instant Pot. Uncover them and run a knife or offset spatula around edges. Invert each ramekin onto a plate, then dust with powdered sugar before serving.