Hainanese Chicken Rice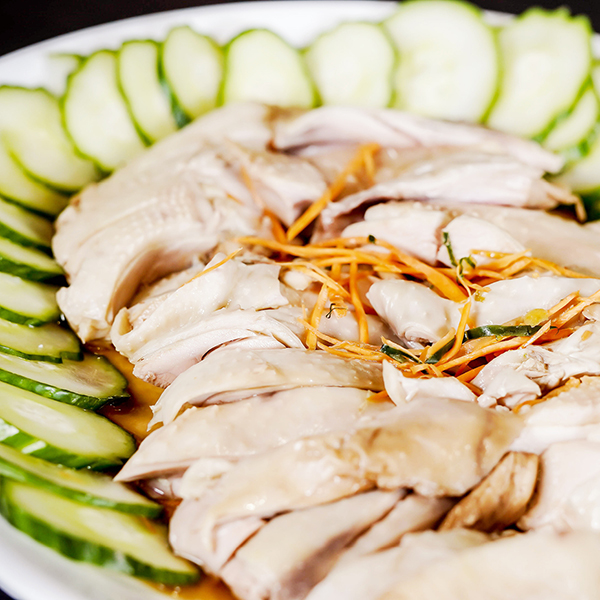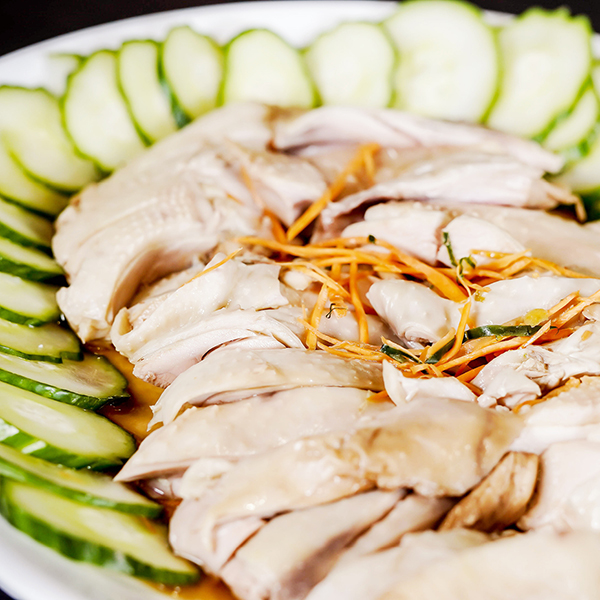 3

lb

whole chicken

(1.3 - 1.4 kg)

1/4

cup

Kosher Salt

(60 g)

4

pieces

fresh ginger

peeled and cut into ¼-inch (6 mm) slices

1

bunch

fresh scallion

Cold Water

2

tbsp

Sesame Oil
1/4

cup

Sesame Oil

(60 ml)

2

tbsp

chicken fat

chopped

2

cloves

garlic

minced

1

tbsp

fresh ginger

minced

1

tsp

Kosher Salt

2

cups

long grain rice

rinsed and drained

2

cups

Chicken Broth
6

Fresh Chili

4

cloves

garlic

3

cm

Ginger

1

Lime

Salt

Sugar
Finishing Sauce - Sesame Oil, Soy Sauce and Chicken Stock

2

cucumbers

thinly sliced, for serving

1

bunch

Fresh Cilantro

for serving
3

lb

whole chicken

(1.3 - 1.4 kg)

1/4

cup

Kosher Salt

(60 g)

4

pieces

fresh ginger

peeled and cut into ¼-inch (6 mm) slices

1

bunch

fresh scallion

Cold Water

2

tbsp

Sesame Oil

1/4

cup

Sesame Oil

(60 ml)

2

tbsp

chicken fat

chopped

2

cloves

garlic

minced

1

tbsp

fresh ginger

minced

1

tsp

Kosher Salt

2

cups

long grain rice

rinsed and drained

2

cups

Chicken Broth

6

Fresh Chili

4

cloves

garlic

3

cm

Ginger

1

Lime

Salt

Sugar

Finishing Sauce - Sesame Oil, Soy Sauce and Chicken Stock

2

cucumbers

thinly sliced, for serving

1

bunch

Fresh Cilantro

for serving
Clean chicken by rubbing a handful of salt, getting rid of any loose skin. Rinse the chicken well inside and out. Pat dry with paper towels. Remove any excess fat from the chicken and set aside for later. Stuff the chicken cavity with the ginger slices and scallions.

Place the chicken in the inner pot and fill with water till maximum mark. Add some salt and cover the lid. Seal the valve and press [PRESSURE COOK] in Pressure Level High for 20 mins.

Quick release pressure and open lid. Press [SAUTE] and turn chicken to make sure it is evenly cooked. Press CANCEL.

Remove the chicken from the pot, reserving the stock for later, and transfer to an ice bath for 5 minutes to stop the cooking process and to keep the chicken skin springy. Discard the ginger and green onion.

After it's cooled, pat the chicken dry with paper towels and rub all over with sesame oil. If you have 2 inner pots, remove the earlier inner pot and change to a new pot. If you only have one inner pot, transfer the stock into another pot.

In a dry inner pot, press saute to heat up the pot. Add ¼ cup (60 ml) of sesame oil, 2 tablespoons of reserved chopped chicken fat, garlic, ginger and salt. Fry until aromatic, about 10 minutes.

Reserve about ¼ of the fried garlic mixture, then add the washed rice to the remaining fried garlic and stir to coat for a few minutes.

Add 2 cups of chicken broth to rice. Press "Rice". While the rice is cooking, carve the chicken for serving.

Pour finishing sauce over the chicken and serve with rice, sliced cucumbers and fresh cilantro.

For the Chilli Sauce: Remove seeds and white piths of chillies to lessen the spiciness. Then, blend chillies, ginger and garlic together. Add lime juice or calamansi lime juice to ease the blending. Add salt and sugar to taste. Chilli sauce can be kept for up to 2 weeks if refrigerated.