Falafel-Spiced Chickpea Pita Pockets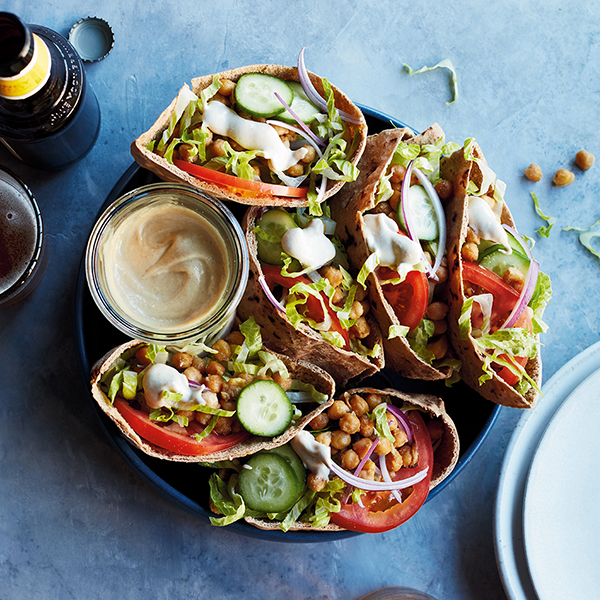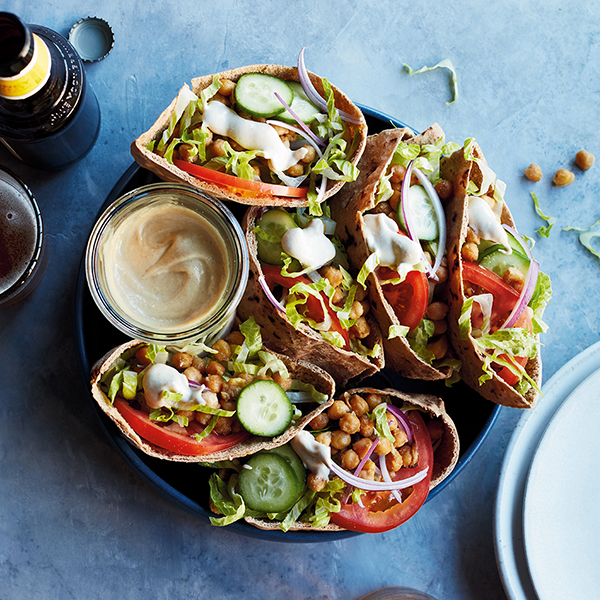 1

cup

Dried Chickpeas

4

cups

Water

1

tsp

Fine Sea Salt

1

tbsp

Extra-virgin Olive Oil

1

tsp

Cumin

1/2

tsp

Coriander

1/2

tsp

Onion Powder

1/4

tsp

Garlic Powder

1/4

tsp

Fine Sea Salt

1/4

tsp

Freshly Ground Black Pepper

4

Persian Cucumbers

sliced

1

head

Romaine Lettuce

shredded

2

Tomatoes

thinly sliced

1/2

small

Red Onion

thinly sliced

6

Whole-Wheat Pitas

warmed and split

3/4

cup

Tahini Dressing

for serving

Harissa

zhoug, or sambal oelek, for serving (optional)
1

cup

Dried Chickpeas

4

cups

Water

1

tsp

Fine Sea Salt

1

tbsp

Extra-virgin Olive Oil

1

tsp

Cumin

1/2

tsp

Coriander

1/2

tsp

Onion Powder

1/4

tsp

Garlic Powder

1/4

tsp

Fine Sea Salt

1/4

tsp

Freshly Ground Black Pepper

4

Persian Cucumbers

sliced

1

head

Romaine Lettuce

shredded

2

Tomatoes

thinly sliced

1/2

small

Red Onion

thinly sliced

6

Whole-Wheat Pitas

warmed and split

3/4

cup

Tahini Dressing

for serving

Harissa

zhoug, or sambal oelek, for serving (optional)
Combine the chickpeas, water, and salt in the Instant Pot and stir to dissolve the salt. Secure the lid and set the Pressure Release to Sealing. Select the Bean/Chili, Pressure Cook, or Manual and set the cooking time for 15 minutes at high pressure. Next, select the Timer or Delay function and set the time delay for 10 to 12 hours. (When the soaking time is complete, the pot will take about 10 minutes to come up to pressure before the cooking program begins.)

When the cooking program ends, let the pressure release for at least 15 minutes, then move the Pressure Release to Venting to release any remaining steam. Open the pot and, wearing heat-resistant mitts, lift out the inner pot and drain the chickpeas in a colander, then transfer them to a medium bowl.

Add 1 1/2 tsps of the oil, the cumin, coriander, onion powder, garlic powder, salt, and pepper and toss to coat the chickpeas evenly with the oil and spices.

Heat the remaining 1 1/2 tsp oil in a skillet over medium-high heat. Add the chickpeas and sauté. for 8 to 10 minutes, until the chickpeas are slightly browned and the spices are aromatic and toasted but not burned. Remove from the heat.

Tuck the cucumbers, lettuce, tomatoes, and onion into the pitas, then spoon 1/2 cup of the warm chickpeas into each pocket. Drizzle each filled pita with 2 tbsp tahini dressing and with hot sauce to taste. Serve the pita pockets while the chickpeas are warm.
Nutrition Information Per serving (pita, vegetables, chickpeas, and tahini sauce): 363 calories, 15 grams fat, 58 grams carbohydrates, 18 grams fiber, 14 grams protein