Bak Chang (Rice Dumplings)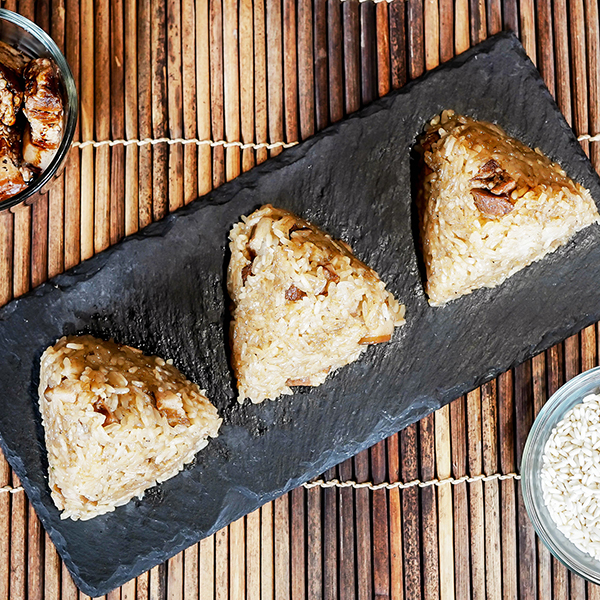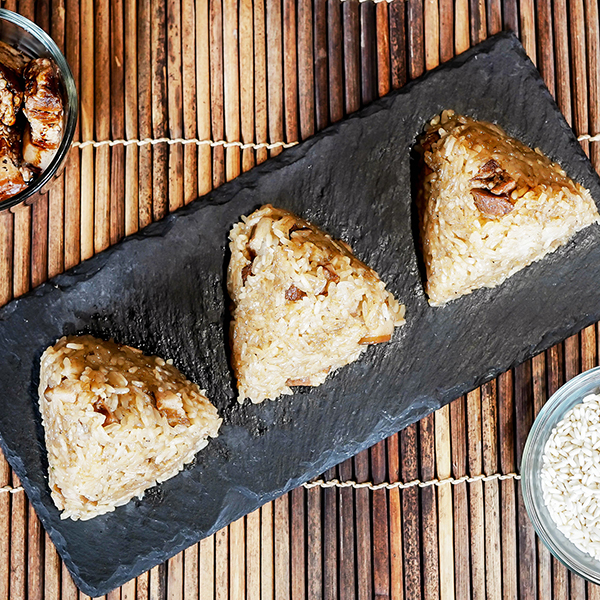 24-30

pcs

dried bamboo leaves

1

ball

natural-fiber string
500

g

Glutinous Rice

2

tbsp

Cooking Oil

10

cloves

garlic

peeled and finely chopped

1

tbsp

Soy Sauce

2

tbsp

oyster sauce

1

tsp

Salt
500

g

lean pork belly or boneless skinless chicken thighs

cut into 2-inch chunks

4

tbsp

Cooking Oil

6

cloves

garlic

peeled and finely chopped

50

g

dried shrimp

soaked and drained off water

10

Shiitake Mushrooms

soak and keep water and slice into 1/2-inch strips

12

dried chestnuts

2

pcs

Chinese sausage

remove casing and slice at angle

6

salted egg yolks

cut in halves

1/2

cup

fried shallot crisp

optional
3

tbsp

Dark Soy Sauce

1

tbsp

Soy Sauce

2

tbsp

oyster sauce

1/4

tsp

Ground White Pepper

1

tsp

Chinese Five-Spice powder

1

tsp

Sugar
24-30

pcs

dried bamboo leaves

1

ball

natural-fiber string

500

g

Glutinous Rice

2

tbsp

Cooking Oil

10

cloves

garlic

peeled and finely chopped

1

tbsp

Soy Sauce

2

tbsp

oyster sauce

1

tsp

Salt

500

g

lean pork belly or boneless skinless chicken thighs

cut into 2-inch chunks

4

tbsp

Cooking Oil

6

cloves

garlic

peeled and finely chopped

50

g

dried shrimp

soaked and drained off water

10

Shiitake Mushrooms

soak and keep water and slice into 1/2-inch strips

12

dried chestnuts

2

pcs

Chinese sausage

remove casing and slice at angle

6

salted egg yolks

cut in halves

1/2

cup

fried shallot crisp

optional

3

tbsp

Dark Soy Sauce

1

tbsp

Soy Sauce

2

tbsp

oyster sauce

1/4

tsp

Ground White Pepper

1

tsp

Chinese Five-Spice powder

1

tsp

Sugar
The day before: Soak the bamboo leaves in water and then discard the water. Wipe the leaves dry the next day when you are ready to use them. Marinate the meat and ingredients overnight Soak the dried chestnuts and remove any red membrane with a toothpick. Soak the mushrooms in water separately until soft. Cut the mushrooms into small pieces. Soak the dried shrimp in water separately until soft.

Cook the meat: Select [SAUTE]. Add cooking oil and stir fry the garlic until fragrant. Add dried shrimp and stir fry for another minute. Add the meat and stir fry until the meat turns color. Add chestnuts and mushrooms. Add more soy sauce or salt to taste. Stir in the fried shallots. Dish out and set aside

Fry the rice: Select [SAUTE]. Add cooking oil and stir fry garlic until fragrant. Add the rice and seasonings. Stir fry the rice with seasonings till the rice turns slightly sticky. Remove from the heat and let it cool down before using it to wrap.

Wrapping the Rice Dumplings: Prepare the rice, meat filling and salted egg yolks ready for wrapping. Stack 2 leaves on top of each other. Fold into a cone shape. Fill it up with about 2 Tbsp of rice and use the back of the spoon to pack it in and slightly create an indentation in the middle for the filling

Then add chestnut, mushrooms, sausage, and a few pieces of the meat into the cone. Top with more sticky rice till almost full. Press the rice down so that the dumpling will be tight. Fold the top part down. Fold on both sides. You'll have this extra piece on top now. Simply fold it down to either one of the side Tie with a string. Repeat with the rest of the filling and rice

Cook with Instant Pot: Fill half the inner pot with water. Press [SAUTE] and bring water to a boil. Add 1/2 tsp of salt. Place the bak chang (rice dumplings) in the inner pot. (12 dumplings should be able to fit in a 6-quart instant pot). Fill up with water to make sure it covers the rice dumplings (do not exceed the max level). CANCEL saute.

Cover the lid. Turn the steam release valve to sealing. Press [PRESSURE COOK] and Pressure Level High. Set the timer to 40 minutes. Quick Release pressure once cooking cycle is done.

Open the lid and let the rice dumplings cool down before eating them.