-35%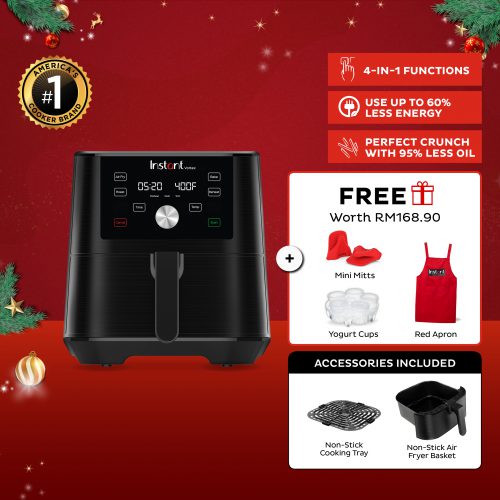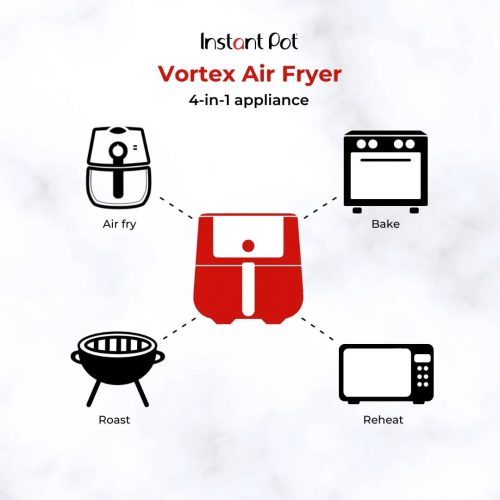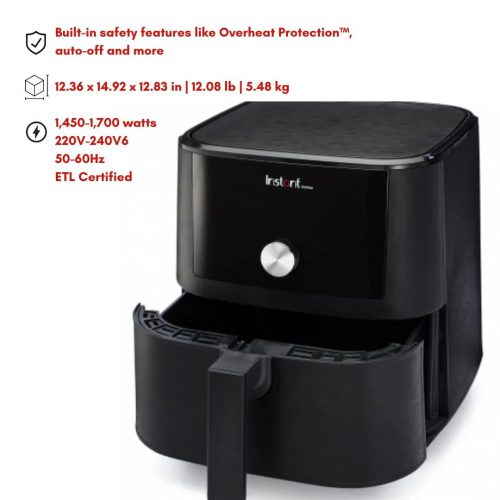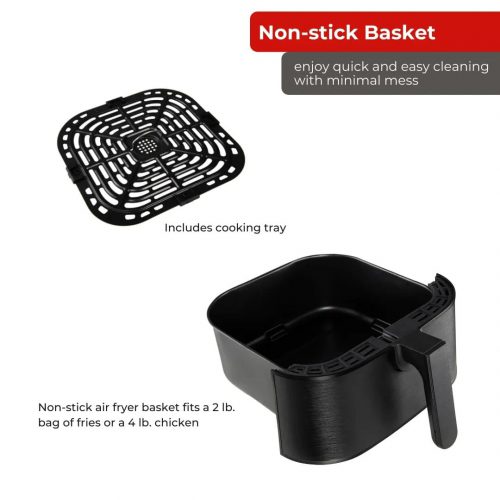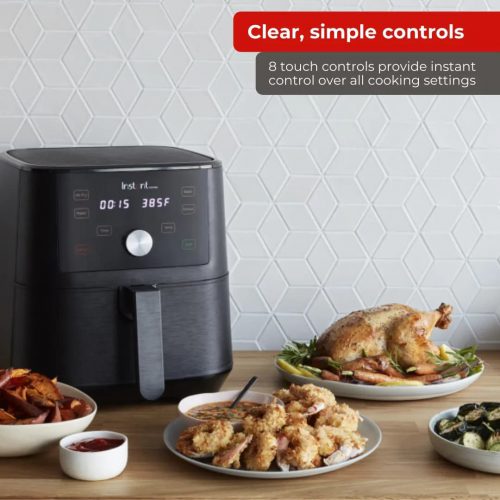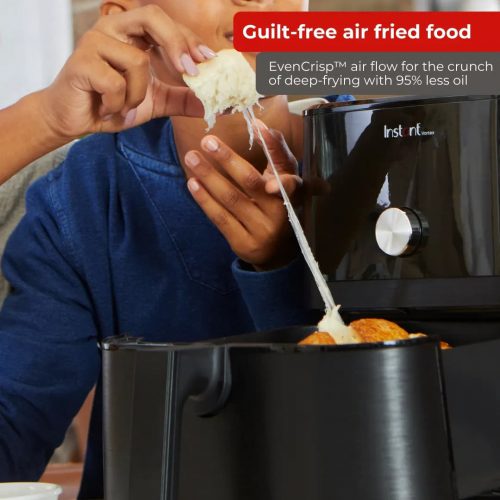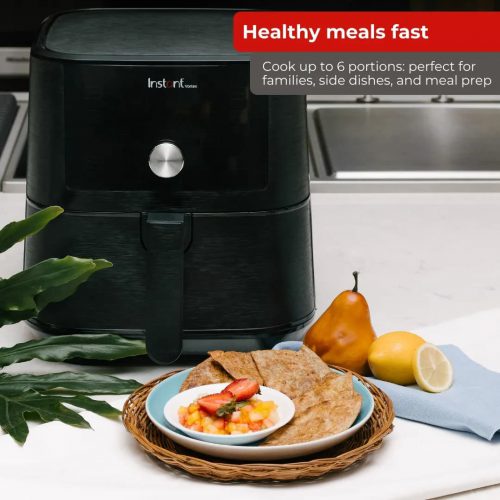 Vortex 4-in-1 Smart Air Fryer (6 QT/5.7 L) with FREE GIFTS
In stock
The Instant™ Vortex™ Air Fryer offers a healthier, convenient alternative to deep frying, plus the versatility of roast, bake, and reheat. The Vortex lets you create healthier versions of all your favourite fried foods – from fresh to frozen – crisped to perfection and deliciously guilt-free. Achieve the deep-fried taste and texture with up to 95% less oil and enjoy easy cleaning. Minimal grease means minimal mess and minimal cost!
Air frying replaces hot oil with super-heated circulating air to produce the same crunchy taste and texture that makes deep fried food so good. It still traps juices inside the crispy coating, without the added grease: it's quicker, cleaner, healthier, and a whole lot easier. The perfect kitchen partner for juicy chicken wings, crispy fries, roasted cauliflower bites, shrimp skewers, mini pizzas, fluffy cinnamon rolls, chew brownie bites and much more.
One-button Smart Programs bring the convenience of Air Fry, Roast, Bake, and Reheat functions in a sleek appliance that's big enough to cook a 1kg of fries or a 1.8kg chicken, but small enough to keep your counter top clear.
4-in-1
Space saving and versatile the Vortex Air Fryer has 4 pre-set programmes in 1 appliance. Air Fry the crispiest chips, Bake delicious cakes and pastries, Roast chicken, meats or vegetables, Reheat Pizza – and much more.
Healthy
Quick and tasty meals using 95% less oil and fat than deep frying. Create healthy versions of your favorite foods. The Vortex air fryer achieves that perfectly crisp fried texture and flavour, without the fat!
Fast
With little to no preheating time, whip up dinner in half the time of a conventional oven without heating up the whole kitchen.
Easy
Simple touch controls for one-touch air frying, roasting, baking and reheating. Sleek black material allows for an easy-clean finish.
Perfect Air Fryer Technology
Circulates super-hot air around your food so it cooks evenly and locks in moisture giving your meal a delicious crispy, golden finish, without all the oil and grease.
Total Smart Control
Smart dial control to easily adjust temperature up to 205°C and cooking time up to 1 hour.
Large Capacity
Generous 6 Quart/5.7L capacity fits a 1.8kg chicken or 1kg of fries! Cook fresh or frozen foods with all the health benefits, convenience and without compromise.
No Mess
Minimal grease means minimal mess. The air fryer basket contains the splatter and its sleek surfaces wipes clean quickly. Plus, the cooking tray is removable and dishwasher safe.
SPECIFICATIONS
| | |
| --- | --- |
| Size | 6 Quart / 5.7 Liters |
| Smart Programs | Air Fryer, Roast, Bake, Reheat |
| Power | 1450-1700W |
| Power Supply | 220V – 240V, 50Hz – 60Hz |
| Weight | 12.08 lbs / 5.48 kg |
| Dimensions (inches) | 12.36L x 14.92W x 12.83H |
| Dimensions (cm) | 31.4L x 37.9W x 32.6H |
| Warranty | 12 months |
| Package included | Cooking Tray |
Cooking Time Table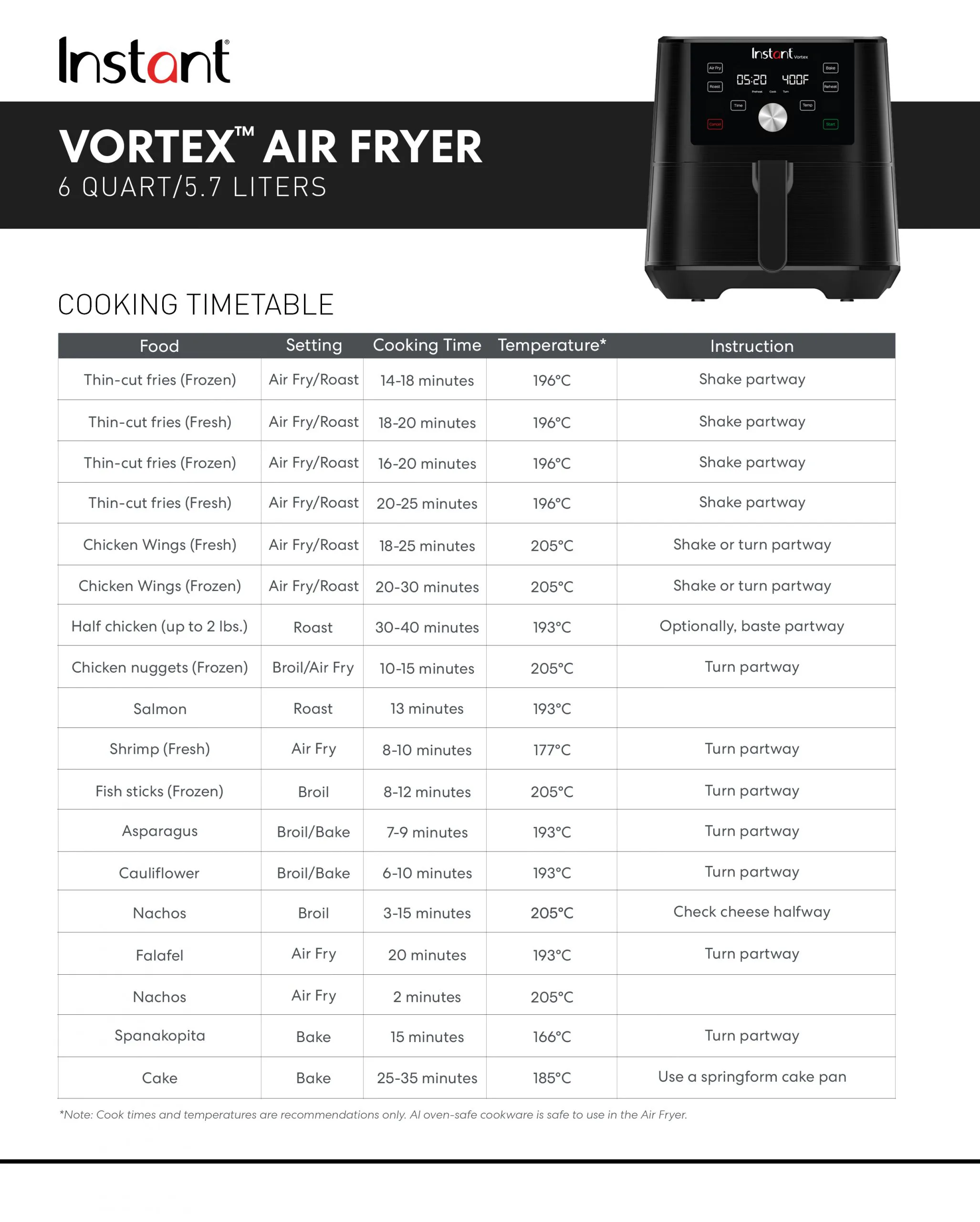 FAQ
Air fryers use a powerful fan to circulate hot air around food to quickly brown and give it a distinctive crispy, deep-fried flavor and texture without the deep frying. The Vortex reaches a maximum temperature of 205°C / 400°F.
Yes! Air frying is a healthier choice in food preparation. Instead of submerging food in oil or fat, simply toss your food in a small amount of oil (as little as 2 tablespoons) to create beautiful, crispy golden french fries, chicken wings, fish and zucchini sticks, mushroom caps, and much more.
You can make all kinds of things in the air fryer oven!• All your favorite fried and pan-fried dishes, like sausage, schnitzel and steak • Yummy baked dishes like pizzas, pies and cakes • Fresh or frozen convenience foods like fries, wings and mozza sticks are a snap • Cool healthy snacks like kale, beet, and sweet potato chips, or homemade fruit leather roll-ups • Do-it-yourself dehydrated jerky with beef, buffalo, trout, turkey, venison, elk, kangaroo, wild boar and so much more!Compared to an oven, the Vortex is also a fast, convenient and energy-efficient way to reheat and re-crisp leftovers.
Yes! The Vortex is an easy way to add crispness to your favorite convenient foods.
Anything you can cook in a conventional oven can be cooked in your Vortex, but for best results, always arrange foods in a single layer and cook in small batches.Avoid foods dipped in batter, such as calamari, tempura shrimp and buttermilk fried chicken. If you want breading, go for an egg wash and breadcrumb coating.
You can fit a lot in the air fryer, but for best results, remember to give your food room to breathe and don't crowd food items. Place food items in a single layer and ensure there is room for the hot air to circulate freely.
We recommend preheating the Vortex as most food items benefit greatly from the immediate high heat of a preheated cooking chamber — preheating only takes 5 minutes!
Depending on the Smart Program, the Vortex may beep part way through to remind you to turn your food. If you don't remove the air fryer basket, the air fryer continues cooking at the selected temperature until the timer completes.Depending on the food item, failing to turn your food may result in uneven cooking. Refer to the Troubleshooting table in the User Manual for further assistance.
Anything you can bake in an oven, you can bake in your Vortex air fryer!You can use any oven-safe baking dish that fits in the air fryer. Just ensure to leave room for air to circulate freely.
Your Vortex air fryer is designed to produce deep-fried results without being submerged in oil, but it may need help from you:• Pat dry moist food items (like potato or zucchini sticks) with a clean dish towel or paper towel • Toss your food in up to 2 tablespoons of oil • Preheat the air fryer to blast your food with hot air • Turn or toss your food in the basket when remindedAlways follow a trusted recipe when air frying.
Videos